Celtic Cross Jewelry
Free Celtic Cross Clipart Legends of Irish Claddagh Rings
Free Irish Clipart The Origins Of Claddagh Rings
Celtic Knot Meanings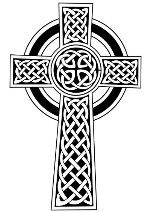 ---
The History Of Celtic Crosses

Celtic crosses, sometimes known as "Ionic crosses or even "moon high crosses," dot the landscape of Ireland and some parts of Britain as well. Like many other Christian symbols, they have old roots in pre-Christian. Some of these crosses date back as much as 5,000 years before Christ's birth, and are considered to be a variation on "sun crosses," an old symbol that honored the pagan thunder god Taranis. The wheel that's part of the sun cross design is thought to relate to ancient Indian and Chinese beliefs that lightning was actually a circular disc which, when thrown, shot flashes in all directions.
But old sun crosses, unlike the more modern Celtic cross, have the cross arms completely contained within the circle. The Celtic cross we would all recognize today, where the arms push outside the circular attachment, may have been brought to Ireland by Christian missionaries from Britain. Celtic crosses exist in Cornwall, Wales, and other parts of Britain that had contact with Ireland during the dark ages.
It's a popular legend that St. Patrick or perhaps St. Declan in turned the Celtic cross into a Christian symbol during their efforts to convert pagan Irish. Catholic priests, in fact, often teach that the circle was put on the crosses to symbolize God's eternal love of mankind. It seems more likely that old Christian communities gradually adopted the existing cross symbolism, erecting them as monuments to mark the places where they lived and held important gatherings and ceremonies.
Some of the best known Celtic crosses are the Cross of Kells in County Meath, the Ardboe Auld Cross in Ardboe, County Tyrone (Northern Ireland) and the Cross of the Scriptures at the ancient monastic site in Clonmacnoise, County Offaly. Very old crosses are frequently decorated with "runes," sayings and brief poems in archaic alphabets.