Become an Irish Culture Expert in a Snap!
The Great Little Book Of Fun Things You Probably Don't Know About Ireland is a very informative and very funny compendium of everything Irish.
Before you visit Ireland this summer, get an insider's knowledge of:
Over 50 eccentric old Irish traditions like bumping the birthday boy's head on the floor, divorce by "handfasting" (simply walking away from each other) and Northern Ireland's big bonfire night.



100 surprising, quirky and amusing facts about Irish culture and attitudes, and things that have happened in Ireland you probably never knew about.



Irish Christmas traditions, from whitewashing barns to "Little Women's Christmas."



Irish words and meanings Did you know that the word "slogan" comes from the gaelic "sluagh-ghairm," which means "war cry?"

Enjoy this video about the book:




40 Irish proverbs, from favorites like "Man is incomplete until he marries; after that he's finished" to obscure ones like "Never tell secrets to your neighbor's children."



A great collection of 60 fascinating quotes and quotations about the Irish, by everyone from Michael Collins and Sean O'Casey to JFK, Charles Lindbergh and John Lennon.



More than 90 offbeat and sometimes unintentionally hilarious stories from the Irish press. Get a flavor of daily life in Ireland from reports on everything from faeries interfering with road crews, pet zebras and prison ghosts to a new government program to bus people back and forth to pubs.
"The book is a great deal of fun to read and to share... Read a nice review of my book at Andi's Book Reviews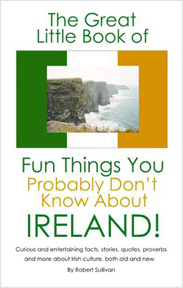 With Chapters on:
The meaning of Craic The Irish keep talking about it, but have just as much trouble defining it as visitors to Ireland do.
Celtic knot designs. Everyone from bikers to spiritualists loves them, but the symbolism behind theses ancient designs is a true mystery.
Ireland's annual pancake night Learn about Shrove Tuesday, a sweet evening in Ireland that's a cousin of Fat Tuesday in New Orleans.
The Strawboys of the Northwest Find out where those odd fellows in strange hats originated.
PLUS: A guide to over 70 boys and girls Irish baby names, in Irish (gaelic) and English.

---
Ireland Fun Facts Book Home | Subscribe
Ireland Resources | Ireland Golf Resources
Site Map | Site Map Two Travel | Site Map Three Culture | Site Map Four Golf
Privacy
---
Read a
full-length interview with the author here
.
"Author Robert Sullivan is crazy about Irish culture, and seeks to share his passion with everyone."
---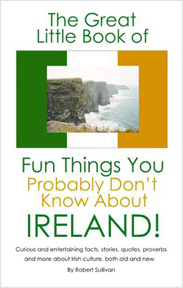 ---
Customer reviews from Amazon.com:
"A dear friend of mine suggested it to me and it came with rave reviews. I gave it a whirl and I was blown away. This book is incredible and highly recommend it!"

"This book covers all things Irish--the magical, mystical and the oh so quirky. It's a slim volume, perfect for carrying around in my shoulder bag."

"There's a great section of quotes about Irelend that I've never seen anywhere else, all kinds of facts I didn't know about Irish culture - stuff about strange customs they have of bumping a baby's head on the floor and superstitions about fairies and the like - that really show how different the history and viewpoint are there than in the U.S. There are also alot of little stories from Irish newspapers recently that are very quirky and cool."