How the "Great Day For The Irish" Became Great
From Japan to Mexico, St. Patrick's Day just keeps getting bigger. They even have a parade in Ireland now!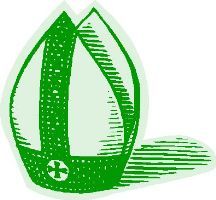 By Eileen Houlihan
St. Patrick was a gentleman.
He came of decent people
In Dublin town he built a church
And on it put a steeple.
His father was a Callaghan
His mother was a Brady
His aunt was an O'Shaughnessy
And his uncle was a Grady.
Although not much is known about St. Patrick's early life, we know the above verse is not true. Nonetheless, it shows the great affection the Irish have for their patron saint, who is treated with the tender familiarity of a favorite brother or cousin.
Kidnapped
We do know that Patrick was born in Roman Briton (Britain) circa 385 A.D., where his father, Calpurnius, was a government official. Patrick himself was named Maewyn and in his writings he referred to himself as patricius, meaning "well born." When Patrick was 16 years old, he was kidnapped by Irish raiders. He spent many years tending sheep for them on the slopes of Slemish Mountain in Antrim. In his "Confessions" he says he looked on his captivity as punishment for breaking God's commandments, and said 100 prayers a day for his deliverance. His prayers were answered when, after many adventures, he was able to make his way home again. But he said he heard the "voice of the Irish" calling, pleading with him to come back to them. He eventually returned to Ireland, and worked tirelessly to introduce Christianity there. He died c. 460 A.D. and his feast day March 17th has been commemorated ever since.
Until recently, St. Patrick's Day in Ireland was a holy day of obligation, celebrated quietly. The day usually started with attendance at Mass, after which the men often went to a local pub to drink Pota Pádraig or "Patrick's Pot" (usually a drink of whiskey) to toast the good saint. A dinner of boiled bacon (not corned beef) cabbage and floury potatoes was customary on that day.
Shamrocks & Whiskey
Patrick used the shamrock to illustrate the Holy Trinity – three persons in one God, three leaves on one shamrock. Therefore, sprigs of shamrocks are worn as a remembrance of his teaching. Badges made of ribbon and paper were worn on one's coat. At the end of the day, one would "drown the shamrock" that is put a few shamrocks into a glass and cover them with whiskey to end the day. Caveat!
St. Patrick was a gentleman
Who through strategy and stealth
Drove all the snakes from Ireland
Here's a toasting to his health!
But not too many toastings
Lest you lose yourself and then
Forget the good St. Patrick
And see all those snakes again.
The St. Patrick's Day Parade in Dublin is a recent phenomenon, and seems descent from America. In New York City, the parade began in revolutionary times when a group of Irish soldiers serving in Washington's army marched up lower Broadway to remember their beloved patron saint. The custom, spread and there are now hundreds of parades honoring St. Patrick all over the US, Canada and Australia, where so many of the Irish diaspora have settled. And the custom is only gaining in popularity. In San Patricio Melaque in Jalisco, Mexico, the day is now celebrated with bullfights and fireworks. In recent years, a parade in Moscow has included Cossack horsemen, marching bands and ornate floats. Should you happen to be in Kyoto, Japan this year on March 4th, you'll be able to watch their St. Patrick's Day Parade. But what pleases me no end is that there is now a St. Patrick's Day Parade in London, England! It's indeed a Great Day for the Irish!
Beannachtaí na Féile Pádraig ar gach aon bhall de chlann domhanda na nGael!
St. Patrick's Day Greetings to all those of Irish heritage throughout the world!
Ms. Houlihan teaches Irish on the Daltai weekends, www.daltai.com
---
Great Little Books About Ireland