Irish Seaweed Baths
Go First Class
Spartan seaweed baths were once popular in Ireland. Nowadays you can soak your toxins out amid music and soft lighting. The seaweed is the only thing that hasn't changed
By Ces Cassidy
In the chilly, grey days of mid-winter, with the excesses of Christmas still clogging up body and mind, there's only one thing to do: take the traditional cure of a hot seaweed bath. This comes highly recommended by "Packy," a sprightly neighbor of mine who attributes his robust health and energy to his regular visits to the nearby spa resort of Bundoran.
Seaweed bathing, a centuries-old Irish practice, has fortified generations who relied on its therapeutic benefits to see them through the cold season. Studies suggest that a soak in the briny tub reduces muscle and joint aches, helps circulatory problems, and relieves dry skin conditions. It's also supposed to purge the body of toxins and pep up your metabolism.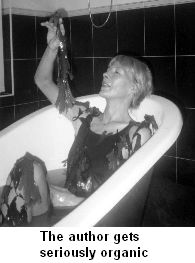 What's Old is New
Mind you, even with such incentives, the therapy was not wildly popular with the Irish until recently. It was mainly the preserve of hardy seniors, who didn't mind the Spartan conditions of the old-style public baths. The young were more inclined to associate the word "cure" with a warm pub and a reviving pint.
But now, the notion of "detoxing" has become a byword for young Irish. And if that means getting up to your neck in ropey strands of sea-weed, so be it. Suddenly, even the old-fashioned sea-baths are appealing to trendy city-types, and new spas like Bundoran's Blue River Club attract up to 30 hot-tub bookings a week in the high season. Says Simon Cosgrove, manager of the Blue River, "Seaweed baths have become more mainstream."
Tons of Fluffy Towels
It helps, of course, if the briny bath is situated in the luxurious surrounds of a spa club like Blue River, with underfoot heating, soothing music, soft lighting and lots of fluffy towels. Still, there is a toe-curling moment as I stand in my bath-robe, peering down at the ropey, brown pile of sea-weed with which I am about to share bathing time. Moving gingerly, to avoid skidding on the stuff and ending up concussing myself on the taps, I lower myself into the water and allow the health-giving fronds float up to my chin. I have a thought that even health-conscious mermaids must sometimes have: why does seaweed have to be such sludgy, slimy stuff? It passes, and I turn on the hot tap with a seaweed-bedecked toe.
Presently, a kind of torpor sets in as I eye the water which has been getting murkier by the minute. Either I'm exuding toxins by the ton, because of the iodine and sulphur in the seaweed, or the fake tan that stood me in such good stead during the party season is rapidly peeling off. Whatever. I lie back and inhale the briny steam, imagining the "new me" that will emerge from the tub: soft-skinned and glistening, with high-octane energy coursing through my veins.
Historic First
An hour later, showered, dressed warmly, and driving homewards, I realize that I do feel different – relaxed and at one with the world. That night, I sleep ten hours straight through, and wake up feeling full of beans, a historic first for my usually sluggish early-morning self.
So seaweed baths are firmly on the 2006 agenda. If it was good enough for all my hardy ancestors, it's good enough for me. And with the Atlantic ocean right outside my back garden, I can even concoct my own briny spa. All I'll need is a wheelbarrow and a pitchfork to collect a load of seaweed at low tide, lug it back up the hill to dump in my own bath. Viola – a souped-up, detoxed bod, for free.
Four Northeastern Seaweed Baths
Kilcullen's, Enniscrone, Sligo: 096-36238.
Celtic Seaweed Baths, Strandhill, Sligo: O7191-68686.
Waterworld, Bundoran, Donegal: 07198-41172.
Blue River Spa, Bundoran, Donegal: O7198-29146.

*Prices vary from 18 to 20 Euros per session.
ABOUT THE SEAWEED
The seaweed used for bathing is a wrack called Fucus Serratus, also known as "toothed wrack," "chicken balm" or "bitter wrack," belonging to the brown seaweed family. Wracks are large seaweeds growing on rocky shores in the northern hemisphere, particularly in Europe and North America. The seaweed has a high mineral content, and is rich in sulphur, iodine and natural oils.
A seaweed bath may be a little different from your typical portable hot tub spa experience, but it can still be every bit as enjoyable.