Where To Get The Best Irish Crafts
Finding the best in handmade items, whether your taste runs to traditional or ultra-modern
By Cynthia McBurney


Say the words "Irish Crafts" and what comes to mind? Handknit Aran sweaters, Blackthorn walking sticks or maybe a willow basket? Nowadays, the crafts of Ireland are much more. All over the country, Ireland's craft people safeguard the best traditions, even as they create new and even trendy pieces. A shopper in Ireland can nowadays find everything from felted wool rag dolls to exquisite hand-thrown pots, hand-pressed paper art and goldsmithing with ancient Celtic symbols or high quality contemporary designs.
A Brief History
Irish crafts began as far back as the Stone Age (some 5000 years ago) when designs for metalworks, basket and textile weaving, pottery and glass were created out of sheer necessity. Over the centuries, craft designs evolved, depending on changes in the political and economic climate. Rural craftspeople designed baskets for carrying turf from the bogs or eggs from the nest, iron pots to prepare Irish stew and pottery bowls and cups for serving. Meanwhile, Irish metal smithies made adornments ranging from a high king's clock to simple clips for securing one's wrap against the Irish chill. The most challenging period for Irish crafts came in the famine years of the mid-1800's. The exodus of people from the country and the terrible poverty of those who remained threatened to wipe out Ireland's crafts completely, just as it almost wiped out Irish language and other elements of native culture. Happily, today, Irish craftsmen are flourishing with the help of supportive communities, the government and a growing appreciation of their work by savvy tourists.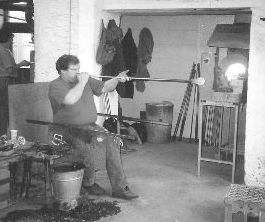 Starting Your Hunt
You can buy Irish crafts at shops in Dublin, Limerick and Galway, but it's more fun to venture out into the Irish countryside and find the craftsmen. There are numerous places where you'll be welcomed to watch a potter at his wheel, an Irish loom working, Bodhrans being stretched and tapped into place or the Irish landscape being brought to life in an artist's watercolor. A good place to plot your course is in the shop at Powerscourt, a spectacular garden outside of Dublin. At Powerscourt, the Crafts Council of Ireland has a permanent display area, where you can do a bit of shopping. More importantly, you can talk with the knowledgeable staff here, who will tip you off to great crafts shops you can visit wherever the rest of your itinerary is taking you.
Crafts centers offer a clustering of craftspeople in one location, helping you to make the most of your limited time in Ireland. The most famous one is probably the Kilkenny Design Centre in Kilkenny City. It features a very wide range of modern and traditional items, in the marvelous setting of the city's medieval castle (www.kilkennydesign.com). Northeast of Galway city you'll find the Spiddal Crafts Village on the Connemara Coast Road. There, in a more rural setting, you can actually watch master crafts people make pottery, hand-knitted crafts, stone sculptures and paintings (phone: 011 353 9155 3376).
For fine wool goods, there's nowhere better than the Blarney Woolen Mills, which is headquartered in the town of Blarney, but also has locations in Dublin, Bunratty, Killarney and Tipperary (phone: 011 353 21 451 6111). If you're spending time in Dublin, try the Crafts Council Gallery at 12 Essex Street, Dublin, in Temple Bar District (phone: 011 353 1 677 8453).
A good place to research individual craftsmen and women is the Crafts Council's website, http://www.ccoi.ie/ (type in the full address or you won't get the site). Alternatively, you can call the Crafts Council at 011 353 4293 20269 and have them mail you a copy.
Tips For Smart Buying
Keep a few things in mind when buying from local Irish crafts people. First, always pay by credit card if you're having the items shipped, or you have commissioned a future work. That way, if the goods arrive broken or don't arrive at all, you'll have an avenue of recourse. Naturally, always get the name, address, email, fax and phone number of the seller of the items. Remember that you may need a written statement from the artists or shop stating that your purchase is an original work of art if you want to bring it into the US without paying a duty. And finally, take the time to learn as much as you can about the craftsman who created the piece. Chat with them if they're on-site, and you'll have a much more enjoyable buying experience!
Cynthia McBurney is the owner of Kathleen's of Dublin, Oregon's premiere Irish shop, in Portland. www.kathleensofdublin.com