Great Tour Sites vs. Irelands Tourist Dives
Planning a first trip to Ireland? Our writers rate the most popular tourist spots. Find out which are worth visiting and which are Irelands tourist dives.
The Cliffs of Moher, County Clare
GREAT STOP
There aren't enough tourists on earth to overwhelm the massive Cliffs of Moher. Though just about every tour bus in Ireland drops a load of camera-toting foreigners here, a visitor still feels he's in a wild, open place atop the cliffs, which drop 700 feet straight down over more than 5 miles of coastline. You get a strong sense of standing on the very edge of Europe, with nothing but the wide Atlantic between you and New York. From here, the ocean seems fearsome, crashing loudly on the rocks below.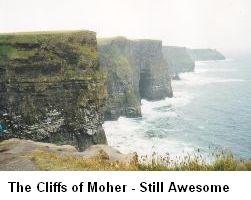 Work has just begun on a new visitor center at the site, being built at a cost of 21 million Euros. It's scheduled to be completed in 2007. A DVD from the Clare County Planning Council makes the projected new center look like a pretty tasteful affair. The restaurants, gift shops and other tourist facilities will all be in a building dug into the side of the cliffs, virtually invisible from ground level. Views from the huge windows inside this structure should be stunning.
An odd aspect of the Cliffs of Moher is the way visitors continually climb over the small rock barriers to covort on various outcroppings. If you believe people basically aren't very smart, your viewpoint will be confirmed once you've seen people lead their children, in a raging wind, to all sorts of narrow spots where one slip would guarantee a funeral. In the process of doing an article last year, I interviewed a local police chief who said he can't remember anyone falling off the cliffs ("At least, not accidentally," he said. He noted that it's an unfortunately popular spot for people who wish to bid the world goodbye). A representative from the Clare Planning Council said there are no major plans to alter the paths.
- By Robert Sullivan
Newgrange, County Meath
SO-SO STOP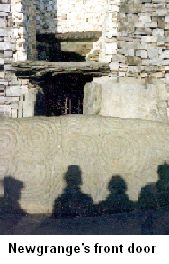 Years ago, according to my father, if you wanted to visit the large megalithic passage tomb of Newgrange, you just clambered over some stonewalls and empty fields and walked right in. You reached the burial chamber at the center of the monument by making your way cautiously along a narrow tunnel. Usually, you'd find the chamber deserted, except for the beer cans left by local underage drinkers.
While this magical and mystical site, which dates back to about 3200 BC (older than the Egyptian pyramids), was sadly neglected for years, visits provided the space, time and peace for one's imagination to wonder about the ancient culture that built it. The elaborate efforts to venerate the dead resulted from customs that were brought here from mainland Europe. The narrow tunnel to the central vaulted interior was designed so that on the winter solstice (and only then) the sun shone through a box over the entrance to light up the main chamber. How and why this was done is still the subject of speculation today.
Get the Ireland Fun Facts Ezine!
It's FREE
Newgrange is no longer an obscure spot in the countryside. To paraphrase Yeats, "a terrible beauty is born." Extensive conservation work was carried out on Newgrange some years ago, which was undoubtedly needed. But today, you're no longer allowed direct access to the monument. Instead, you must start at its Visitor and Heritage Centre, and be bussed in large groups down to the tomb with an obligatory guide and a strictly observed time limit to your visit.
Protection of the site is, I must admit, a good thing. But the never-ending crowds and guided tours have made it harder to let your imagination roam back to the time when Newgrange's builders lived.
- By Elaine Walsh
The Giant's Causeway, County Antrim
GOOD STOP
"Giant's Causeway?…It's more like the Midget's Causeway!" a friend of mine said some years ago. He was obviously unimpressed by his visit to this natural wonder located in Antrim, Northern Ireland. My own view is that The Giant's Causeway is well worth going out of your way to see. It's a strikingly unusual formation: tall columns of hexagonal rocks grouped in step-like formations that were created when balsatic
lava cooled here some 6 million years ago.
Seeing it for the first time, I realized it was no wonder my ancestors had come up with some convoluted legends to explain the origin of these nearly symmetrical rocks. The best known story is that Irish giant Finn McCool built a causeway to Scotland in order to do battle with a rival giant called Benandonner. But when McCool got to Scotland he saw that his rival, who was fortunately asleep, was a lot bigger than he'd counted on. So, he hotfooted back to Antrim.
Hot on his heels came Benadonner, having woken from his slumber. Luckily, Finn McCool's wife came to the rescue, dressing her husband up as a baby. She crossly told the Scottish giant her husband was out, and to be quiet so he wouldn't wake the "baby." Benadonner took one look at the enormous baby and decided that it wouldn't be in his best interest to fight his father, who would, of course, be massive. So he raced back to Scotland, tearing up the causeway behind him. All that we have left is what you now see in Antrim.
When you see the surreal landscape of the Giant's Causeway, it's hard to come up with a better explanation.
- By Elaine Walsh
Guinness Brewery, Dublin
SO-SO STOP
The Guinness brewery, situated at St. James's Gate in the heart of Dublin, has long been a popular tourist attraction. Its current program offers visitors a self-guided tour of the building. Interactive video screens show the history of the brewery from the time it was first bought in 1759 by Arthur Guinness for a mere 100 pounds. You walk past giant glass vats containing barley, hops and other ingredients that go into the making of Guinness and get instruction on brewing techniques. Video screens show footage of coopers making barrels to store the stout.
The most interesting part of the tour by far is the review of past advertising campaigns. Guinness has always spent lavishly on their ads, and many of the campaigns have become cultural points of reference in Ireland, as well as popular memorabilia. Irish people identify instinctively with Guinness, both at home and abroad, and the advertising has played no small role in this.
At the end of the tour you're brought up to the "Sky Bar" overlooking Dublin and invited to have a pint of the black stuff. Unfortunately, the atmosphere seems a bit stale. When I stopped by recently I found just a few tourists milling around, politely tasting what was obviously their first pint. They seemed less than thrilled. Of course, at noon, the last thing some people want is a pint of Guinness (mineral water is also available).
The Guinness website at www.guinness.com gives a good idea of what the tour consists of. All in all, it's entertaining, but at 14 Euro, a bit overpriced. Unless you're a hardcore Guinness fan, I wouldn't expect it to highlight your visit to Dublin.
- By Maeve Tynan
Blarney Castle, County Cork
TOURIST DIVE
A few years back, one of the national radio talk shows ran a story about Blarney Castle. A listener called in, asking if it was hygienic to kiss the stone, given the number of people that kiss it daily to obtain the gift of eloquence. A representative of the Castle replied, assuring the listener that the stone is sprayed and wiped with anti-bacterial wash regularly.
The site is, indeed, sanitized in every way. And the radio show was about as silly as the custom of leaning backwards whilst on your back to kiss a point below the battlements.
I live just a few miles north of the village of Blarney and each summer I pity the flocks of tourists that wander around town haplessly after they've visited the Castle. The Castle itself is a disappointment. It looks imposing from a distance, but it's a ruined shell inside. Collections of stones at its base are labeled "druidic," which is misleading. They're actually modern additions to the site.
Visitors climb a narrow internal stairwell in a long, slow line to reach the stone. In summer it's quite hot. Once the stone is kissed and the photo taken, the important part is over. Visitors troop back down the long stairs again and enter one of the country's largest craft shops. The entire ground floor is devoted to selling kitsch Irish souvenirs, from shamrocks and leprechauns to tweed caps and the like.
There's an unfortunate idea out there that a visit to Ireland is incomplete without a visit to Blarney. Personally, I recommend that if you want to avoid the ravages of mass tourism, pass on it. (For an alternative, try Barryscourt Castle in East Cork. In recent years it's been fully restored and the guided tour is excellent. It's an intelligent slice of Irish history, minus the gimmicks!).
- By Regina Sexton
The Ring of Kerry, County Kerry
TOURIST DIVE
There's a certain dualism about the Killarney area. It has some of the most staggeringly beautiful natural scenery in Ireland, but it's also a concentrated area of tasteless and stereotyped Irish tourist sites. The whole area oozes a "Darby O'Gill" flavor, which has more to do with Hollywood than Ireland. It's also the starting point for one of Ireland's best-known day trips, the Ring of Kerry tour.
As the name suggests, the Ring of Kerry tour follows a ring through some of Kerry's larger towns, culminating in a trip down the long, curving coastal cliffs from Killorglin to Kenmare. The road is so heavily traveled that buses are now allowed to go only in one direction. Traffic jams are frequent, and the views are often hidden in a haze of rain and mist.
With the vast amount of beautiful coastline in Ireland, I've never quite figured out why people keep flocking to this one particular route. The towns along this tour are indeed pleasant (especially Kenmare). But the trip is only appealing if you're a lover of crowds. (By the way, if you are driving yourself around Ireland, I don't recommend traveling this route. Above all, do NOT drive the coast road north from Kenmare toward Kilorglin. You'll find yourself in a hair-raising battle with a steady stream of buses that barely fit on the road. Within the first 15 minutes, those cliffs on your left will become a less-welcome sight.)
Instead of joining the army of buses on the Ring of Kerry, I'd recommend a visit to the next peninsula north, the Dingle Peninsula. Or if you like islands and a more relaxed atmosphere, try Valentia or the Skelligs, both just off the Ring of Kerry. They offer unrivalled scenery and historic interest.
- By Regina Sexton
Bunratty Castle & Folk Park, County Clare
GREAT STOP
Bunratty Castle is so close to Shannon Airport that it's the first stop in Ireland for many. While there's no shortage of tourists at Bunratty, there are some great reasons for its popularity.
The Castle has been kept in marvelous condition and provides a fascinating glimpse into the history of Norman Ireland. The
guided tour is informative, fun and perhaps most important, not too long. There's a surrounding folk park to stroll through, with shops selling all kinds of tourist-target merchandise. An interactive experience is offered by actors in costume in the houses and old schoolroom. If you feel hungry or thirsty, you can stop by The Tea Room or The Corn-Barn Country Kitchen, or have a pint at Mac's, all situated in the park.
The banquet at Bunratty Castle, as you might expect, involves lots of musicians and singers in mediaeval dress. Throughout the meal, they entertain with songs and stories explaining the background of Irish customs. The food is definitely not the main attraction, but there's plenty of wine and mead provided. (Mead, a mediaeval drink based on wine and honey, is very easy to enjoy. Before you enjoy too much, keep in mind that you have some winding, narrow castle steps to negotiate on your way out). Snuff, which doesn't fit everyone's taste, is often given out at the end of the event.
The banquet works because it's presented with a light, tongue-in-cheek attitude. At €49.95 per adult, it's a fun, reasonably-priced night out (there's a 5:30 pm and an 8:45 pm seating each night). And it doesn't only appeal to foreign tourists -- a lot of Irish people come as well!
It's worth mentioning that right next door to the castle is Durty Nelly's, a famous pub that pulls a lovely pint of Guinness. It has a piano that frequently gets hijacked by a local musician. At night, it's amusing to see the Bunratty actors who earlier tried to convince you that you'd traveled back in time, knocking back a few pints in the pub.
For further information check out www.shannonheritage.com
- By Ann Blake