Hiking the Gap of Aherlow
Tucked away in an inland mountain range, the Glen of Aherlow is 16 miles of heaven: a pristine playground for hikers and climbers
By Maeve Tynan
Just south of the famed town of Tipperary, the Glen of Aherlow stretches out in a complex patchwork of lush green grass, trees and hedgerows, all draped over undulating hills and valleys. Small farmhouses dot the 16-mile-long valley, where splashes of yellow gorse seem to set the fields ablaze. Overhead, the mountain ranges surrounding the Glen show a myriad of subtle, deeper hues. This bit of the great outdoors of Ireland is a uniquely untouched place little-known to most tourists in Ireland.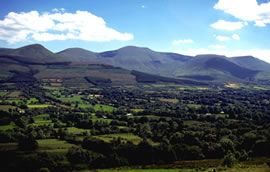 This past May, I was on a mission to see as much of the area as possible on a walking tour. I wore my hiking boots, expecting to start getting in shape for the summer months. From my home in Dublin, it really is not a long way to Tipperary. You can simply take the train to Limerick Junction, a small town not to be confused with Limerick City (songwriter James Judge actually never visited Ireland before penning his famous tune) and presto – you're there.
The Glen, which is near popular tourist spots such as Lough Derg, Cahir and Cashel, offers challenging trails for the serious hill walker or climber. The difficult Lake Muskry walk, for example, is 16 km long, involves a climb of 470 meters, and takes four hours to complete. But there are also plenty of easier walks that still provide stunning views. Being slightly less fit than I might be, I chose one of these. The Aherlow House Hotel proved a great place to get my bearings before starting out. Situated on the Sliabhy n Muc Mountain, on the eastern end of the Glen of Aherlow Nature Park, it's close to many of the most popular walking trails. After grabbing a quick snack and a walking route map in the reception area, I was off for a four-hour trek.
Nature's Gym
The Glen is surrounded by the Galtee Mountains to the south, and the Sliabh na Muc Ridge to the north. The Galtees, Ireland's highest inland mountain range, boast five spectacular "corrie" lakes ("corrie, gaelic for "cauldron," is used to describe steepsided, rounded out hollows in the sides of glaciated mountains). The highest of many magnificent peaks here is Galteemore, standing at 3,018 ft. All around, the vista is enhanced by streams cascading down the mountain faces. The foothills are heavily forested. Being a city person and more of a gym than an outdoors type, I was struck by how relaxing it was to get out into the country again. Hopping along in the sunshine, the only sound was the crunching of the stony earth underfoot. I didn't meet another soul along the entire trail. With fluffy clouds above and green fields stretching below, I felt a deep surge of sympathy for my friends pounding treadmills like hamsters on a wheel back in the city.
The rich pasturelands here are often called the "Golden Vale of Ireland." Rich limestone deposits in the soil are said to produce healthier, hardier horses – a fact which draws racing types from not just Dublin, but as far away as Dubai. As I headed back to the train station, the Limerick Junction races were in full swing. But I was feeling a bit too tired to get involved. Farewell to Aherlow and Tipperary, but I have a sneaking suspicion I'll be coming back.
Getting Your Walking Papers
Walking trails in the Glen of Aherlow run through a combination of public and private lands. Trail maps can be obtained at the Aherlow House Hotel, the Tipperary Tourism Office on James Street, or the Cahir Tourism Office on Castle Street. A good source of information on walking tours as well as horse riding and other activities in the area is The Glen of Aherlow Fáilte Society (011 353 62 56331). You can visit the Society on the web at http://www.aherlow.com/, or find your way to the office. Good luck – the office s situated behind the Coach Road Pub on the Bansha Galbally Road, approximately half a mile down hill from the statue of "Christ the King" and about five and a half miles from the village of Bansha. It's open from June 1st to October 1st, seven days a week from nine to six.
Aherlow House Hotel
Aherlow House Hotel (www.aherlowhouse.ie) is an upscale spot, originally built in 1928, which sits amid spectacular scenery. On my recent arrival there, I was greeted with the red carpet treatment - literally. Before I could utter "you shouldn't have," the real guests of honor arrived – a wedding party. The Hotel is a popular venue for wedding receptions, including those of luminaries such as Dolores O'Riordan of Cranberries fame (an old schoolmate of mine, actually). If you're staying for several nights, consider renting one of the four lodges attached to the hotel. They're fairly well kitted out, and go at about 500 Euros for a four-night stay. If that's over your budget, there are plenty of cheerful and inexpensive B&B's in the area, as well as camping and farmhouse self-catering. So you're spoilt for choice.
Maeve Tynan lives in Limerick