Donal Clancy's Different Take On The Irish Guitar
Review
/ Robert Sullivan
Guitar lovers won't often find a traditional album that echoes with as many different influences as Donal Clancy's "Close to Home." The dozen instrumentals on this artist's first solo CD have a funny way of sneaking up on you. At first they sound like the work of an artist with a stay-at-home approach to the Irish tradition. A good close listen, however, and may find yourself comparing Clancy to players running the spectrum from Doc Watson to Andres Segovia and even less likely suspects like Jorma Kaukonen.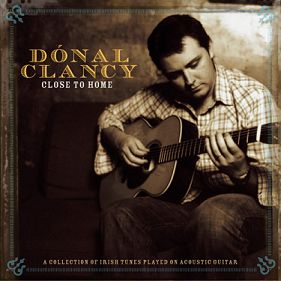 While many of the best Irish guitarists like John Doyle and Artie McGlynn make a living by reinventing the bass lines and rhythms under a tune, Clancy's playing is all about the pure melody. He's got a command of every trill and stutter step in the traditional canon that one hears form the best fiddlers, but not very often from a guitarist.
Subtle Variations
"Farewell to Connaught," a punchy, high-speed reel with the guitar backed only by a drone, sounds like it wouldn't be so far out of place in the Appalachian mountains. "Ask My Father" has very similar-sounding melody, but a slightly slower rhythm and different picking style make it feel more like a formal English dancing tune. Then there's the dreamy harp tune "Lord Inchiquin," which, like many O Carolan songs, sounds a bit like Mozart playing Irish music on a harpsichord.
Clancy brings some pretty unique credentials for a first-time solo artist. He was a founding member of the well-known group Danu and has played with the Eileen Ivers band. On the recent Solas reunion album and DVD, a brief interview has him talking as though he's lucky to be asked to strum along with the group, possibly because of his family background (his father Liam, after all, was a member of the legendary Clancy Brothers). Now, with his new album out, that assessment seems overly modest – by a long shot. Clancy's got the chops and, more importantly, an original approach that puts him in the ranks of the best guitarists, Irish or otherwise.
His driving flatpick gives "The Concert Reel" an almost out-of-control feel that's a sharp contrast with the slower, more understated pieces here. But while you might dance the jig to a song or two here, "Close to Home" pushes the boundaries of the Irish style beyond what you'll hear in any pub, or on just about any other CD for that matter.
"Close To Home" is on Compass Records. www.compassrecords.com
You can also find out more about Donal Clancy at www.donalclancy.com