Danu In Concert
3/4/2009: It takes a lot to get this New Yorker to drag himself to the wilds of New Jersey, but a trip last night to the SOPAC arts center in South Orange to see Danu was more than worth it.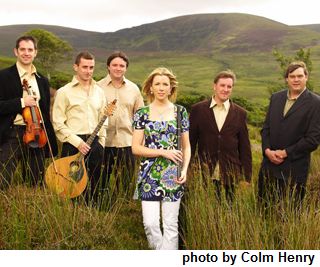 Danu comes out of the "purist" strain of Irish traditional music that traces its roots back through the Chieftains, though their style is a bit more "folk" inspired than the jazzy improvisational approach of the "Chiefs" and other similar groups.
All-Star Team
This ensemble has been practicing their art, with just a few personnel changes, since 1996. Now that several of the players have made names for themselves via solo recordings, they're probably the closest thing to an all-star team in the Irish universe. The group certainly makes for a fun evening out. At last night's concert you could have edited the banter in between songs into a pretty amusing half-hour comedy show (pity the poor bodhran player, who was ribbed endlessly for being the only Scotsman in the group). It's nice to see people with this much talent avoid taking themselves too seriously.
Danu can get you up and dancing now and then. But they tend to look for gold in the subtler variations of Celtic music. Fiddler Oisin (pronounced "o-shin") Mc Auley has a mournful northwestern style that gives a unique undertone to everything, while guitarist Donal Clancy (formerly of Solas) plays a gorgeous finger-picking style almost like harpsichord music that's totally unique. A piece he played from Brittany, France had a different kind of Celtic feel that produced one of the evening's real highlights.
A Must-See
But what makes Danu a "must see" is Muireann Nic Amhlaoibh (pronounced "mur-in nik-all-iff"). She plays a good penny whistle and flute, but her singing is something more - a real modern treasure of Irish culture. Ms. Nic Amhlaoibh's quick, flexible voice features a low range that's warm and hypnotic – an instrument you won't hear bettered in Irish music, jazz or rock and roll for that matter. When she sings in Irish, she has a rare ability to make the odd, backwards-sounding old language seem lyrical, almost like Italian. Danu's brief U.S. tour will run through March 22nd, mostly hitting the northeast and the west coast. If they're passing close by, you'll be foolish to miss them. Tour dates here
Danu's music is available on iTunes and other services, or from Schanachie Records
Danu video sampler:
- The sound and visual are out of synch on this clip, but it's a lovely version of "The Old Man," an Irish-language tune Danu is playing on its current tour. Awesome singing. see here
- Excellent video of Muireann singing the classic Slan le Maigh
- Nice, recent clip of Oisin Mc Auley showing off his unique fiddle style with two guitarists.
- See the finger picking approach that makes Donal Clancy so unique here.
- Benny McCarthy plays some great accordion on this slighly fuzzy but good-sounding clip of a Danu concert in Israel.