Climbing Croagh Patrick,
the Magic Mountain
There's no shortage of scenic beauty on Ireland's holy mountain. If you want to make the climb, get ready for a real workout
By Mary Catherine Fitzsimmons
The idea of climbing Croagh Patrick has drawn two different flocks of believers, going all the way back to St. Patrick's own time. The first group, who arrive by the tens of thousands each year on the last Sunday in July ("Reek Sunday"), are the faithful who believe that walking to the top, preferably barefoot, is a way to reduce purgatorial sentences.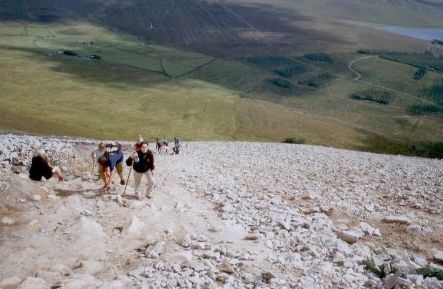 The second group, whose viewpoint is closer to my own, believe it's good for the spirit to take a vigorous hike that offers stunning views of County Mayo and nearby Connemara.
Driving north towards St Patrick's mountain one morning last summer, I found it was closer to my home in Galway City than expected. It took just forty-five minutes to reach the Mayo county line. Another hour of driving past bare dry-stone walls of Connemara brought me to Westport, a large and brightly painted town nestled in a valley. Westport has its fair share of tourists, but still manages to retain its local flavor (in other words, it's no Killarney!). The town center's streets radiate like spokes from a plaza encircling a statue of a young and warrior-like St. Patrick. In summer, teenagers sit just at the base of the statue watching the modern world fly by in Mitsubishis and Toyotas.
On this particular day, we found a hundred or so people in the parking lot area preparing to climb Croagh Patrick. Most wore shoes. In the distance, we could see tiny human shapes were profiled against the August sky, climbing up the mountain. Fortified with sandwiches and armed with binoculars, we set out, stopping to rent wooden walking sticks from a vendor at €1 each (with a €3 deposit of course!).
Tough Climb
The climb has two stages. The first takes you up a rocky foothill covered in heather and moss with a narrow stream running next to the well-trodden path. It took us about 45 minutes to complete.
Turning upward again, we found the mosses disappearing. Though newspaper accounts of Reek Sunday frequently tell of people in their sixties going up for their twentieth time, the truth is that this second stage may prove too difficult for some. The path here quickly becomes a precariously steep, gravel-strewn track leading to the top. At one stage, the ground was at about a 55-degree angle, with fist-sized rocks threatening to slip away underfoot. The dozens of people trying to negotiate their way past one another on the way up or down add an extra degree of difficulty. Some climbers wore expensive hiking gear, while several locals sported every-day clothing. Two girls were attempting the climb in flip-flop sandals. Along the entire path, people rested on large rocks, apparently debating inwardly whether to quit or continue.
We made it to the top after about two hours and flopped onto the steps of the summit's chapel to rest and drink in the view. What a view it was! The bay lay just behind the mountain, and the vista stretched for miles, broken only by small scatterings of clouds. We had arrived on the perfect day: dry but breezy, though the breeze on top was a little bracing. Wintery days tend to be much windier in Ireland, and would surely make the climb more difficult, if not altogether impossible.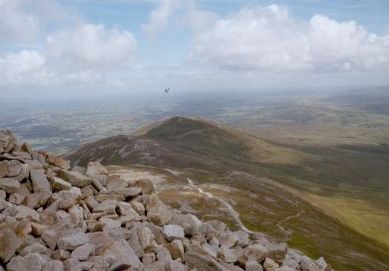 The other climbers were seated on the chapel steps were mostly older German or English couples, but some families with small children were there, excited at their accomplishment.
Looking around, we saw the different "stations" being performed by some of the pilgrim climbers. Traditionally, people walk and pray around holy spots or stations on the mountain, such as the chapel and the spot purported to be St Patrick's bed during his stay there. In 441 AD, Patrick is said to have spent 40 days and nights in prayer and fasting on its summit.
After twenty minutes of enjoying the stunning natural beauty we started the descent, which was almost as tough as going up. With legs soon trembling from the effort, it was clear to me that this pilgrimage trail was truly purgatorial. There was a lot more slipping on loose rock, and though my walking stick came in handy, I still made contact with the ground once or twice. Just weeks before my visit, a 12-year-old girl had to be airlifted from the mountain after a bad fall.
A Well-Deserved Rest
Arriving at the bottom with legs of jelly about three hours after we started off, we passed on the new visitor and information centre (though its offer of hot showers, restaurant and craft shop surely tempts many a weary body). The Croagh Patrick Visitor Centre, or Teach na Miasa, also offers historical and archaeological information and guided tours with packed lunches for the really keen.
After lots of stretching, we were off to Westport again for fish and chips. And of course, as we wandered around the town afterward, we found some enormous ice cream cones as a reward for a successful day. Who says a pilgrimage involve only sacrifice?
Croagh Patrick Visitors' Centre/Teach na Murrisk: Murrisk, Co. Mayo, Ireland
Spring Season (April and May) 10.00 a.m. - 6.00 p.m.
High Season (June through August) 10.00 a.m. - 7.00 p.m.
Shoulder Season (September and October) 11.00 a.m. - 5.00 p.m.
Low Season (November through March) Limited opening hours.
http://www.croagh-patrick.com/centre.html
[email protected]
Telephone: 011 353 (0) 98 64114