Read up on Ireland, and get excited about your next visit!
PURCHASE INDIVIDUAL ISSUES BELOW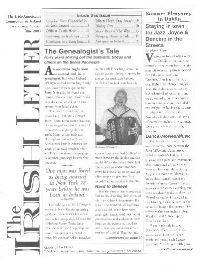 June 2003:
A Famous Genealogist on the Beara Peninsula * An American Finds Out His Grandfather is an Irish Legend on a Visit to Clifden * Cregg Castle, a Relaxed Hotel Near Galway * Music: The History of the Chieftains * A Personal View of Mizen Head * Restaurant Reviews in Dublin and Cahirciveen * Straw Boys of the West Explained * Building an Irish Pub in America * How to Shop for Authentic Antiques in Ireland * Summer Festivals in Dublin City.
---

August 2003:
Limerick, Remembered Fondly by a Native * Driving in Ireland - Be Careful * New Ross and its Ties to the American Kennedys * What Exactly Does CRAIC Mean? * Harbour Sunset, a Great Farm B&B for Kids * The Irish Language Gets More Popular * Music Reviews: Eamon Coyne, Black 47, Lunasa * A Hilarious New Dictionary of Irish Slang * Restaurant Reviews in Dublin * Viewpoints: An American Living in Galway / An Irishman in Texas * Where to Spend the Night Near Shannon Airport * The Queen of the Pirates * Henrietta Street - History's Boulevard * Jeanie Johnston's Emotional Punch
---

October 2003: Ireland Goes Lawsuit Crazy * Celtic Halloween - The Holiday Ireland Gave to America * Julee Glaub's Musical Journey From North Carolina to Ireland's Heart * Meagher of the Sword * A New Movie Goes Surfin I-R-E * An American Lacrosse Player Goes Hurling * Cape Clear Island in West Cork * Kilrush Town & Uninhabited Scattery Island * A Guide to Medieval Kilkenny * Family Tour of County Mayo * County Kerry's Great Seafood Restaurants * Tips on How to be a Smart Shopper in Ireland * The First Irish-American I Ever Saw * Halloween on the Aran Islands * Dublin's Chester Beatty Library
---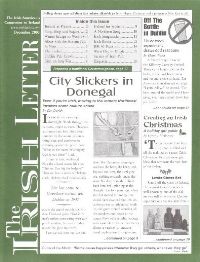 December 2003:
Two Dublin City Slickers Move to Donegal * Gift Guide for Creating an Irish Christmas * Going Off the Bottle For Three Weeks in Dublin - An Experiment * Winter Escape to the Wicklow Mountains * Alone With the Ancient Past in Sligo * Original Story: The Locket * Two Great Dublin Pub Crawls * An Irish Controversy Over the Iraq War * The Frankie Kennedy Music School in Donegal * Irish Travel-Study Program for American High School Students * Music Reviews: Van Morrison; Damien Rice; The Thrills * Great Books on Ireland for Christmas * JFK 40 Years Later * The Wren Day Lives on in Dingle * Secrets of Irish Pub Etiquette
---

February 2004:
Golf Widow's Guide to Ireland * "Bungalow Blitz" of Weird New Houses Spreads Across the Farm Fields" * Arranmore Island, a Mountain in the Atlantic * Lively Westport Town * What Happens After the Economic Boom? * An Up-Close Taste of Irish Farm Life * Ireland's Twentysomethings Different World View * Edna O'Brien Goes Home * Black 47 Leads a Tour Bus of Rockers Across Ireland * Irish Cooking: Salmon * Shrove Tuesday - Ireland's Pancake Night * Summer Internships in Ireland for Students
---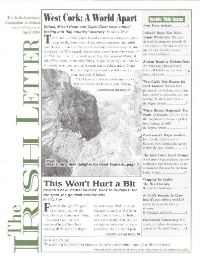 April 2004:
West Cork: A World Apart * Ireland's Wacky "Dental Tourists" Flock to Budapest * Ancient Stones and Modern Superstitions * Facing a Brave New Multi-Ethnic Country * Artisan Food Producers of West Cork * Where History Happened: The Battle of Kinsale * Powerscourt's Magic Gardens * Irish Letter Travel Planner - Recommended Accomodations * Shopping for Crafts * A Child's Summer in Clare * Controversy Over Building in the Countryside
---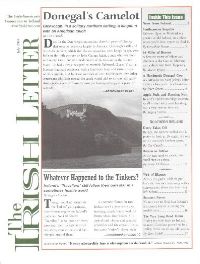 July 2004:
Glenveigh Castle - Donegal's Camelot * Whatever Happened to the Tinkers? * Kilmore Quay's Thatched Village - A Southeastern Surprise * Hiking the Amazing Gap of Aherlow * Getting a Handmade Donegal Coat * Flying Apples & Dancing Nuts: Ireland's Marriage Customs Involving Food * Derry City Takes Off * A Return to Belfast * Irish Ex-Pats Talk Up a Storm Online * Irish Food: Summer Butter * An Irish Emigrant Takes His American Kids Back to Kilkenny
---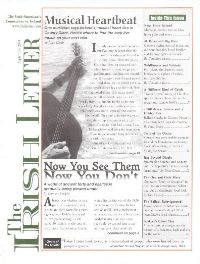 September 2004:
Where to Hear the Very Best Music Sessions in County Clare * Ancient Forts and Castles Being Plowed Under * Galway Races - Horses & High-Fashion Hats * The Burren's World of Wildflowers and Solitude * Tower Houses - A Different Kind of Castle * Belleek Castle, County Mayo * Now They're Eating Seaweed! * The Western-Most Farmhouse on Slea Head * Mary of Dungloe - A Very Local Festival * Music Review: Sean Doyle's Great Ballads * Inisheer's Ghost Ship
---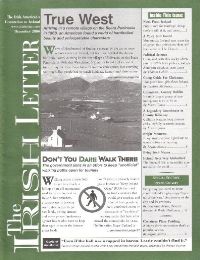 December 2004:
An American's 1968 Move to the Beara * Controversy Over Public Walking Paths * When The Church Speaks, Politicians Still Listen * Great Celtic Gifts for Christmas * Chinatown, County Dublin * A Wacky Irish Election Drive Remembered * Cullintra - Legenday Guest House in Kilkenny * Newgrange's Ancient Lightshow on New Year's * Humor: Being Irish Means... * Ireland Gets Very Globalized * Special Section: Everything You Need to Know About Galway * Christmas Plum Pudding.
---

February 2005:
Special Issue - Our Favorite Things About Ireland * A Golfer's Secret in Mayo * Little Women's Christmas * Favorite Places to Shop for Wool Goods * Two Favorite Irish Gardens * Where's the Absolutely Best Pub in Ireland? * Dying in Ireland - Just as Eccentric as Living There * Cholesterol-Mad Irish Breakfast * First Class Seaweed Baths * Two Favorite Restaurants * Poulnabrone - An Unforgettable Ancient Monument * How to Get an Irish Passport * A Drive Up the Healy Pass * New Government Rules Could Change the Countryside * A Caravaggio, Lost & Found * How Long the Celtic Tiger?
---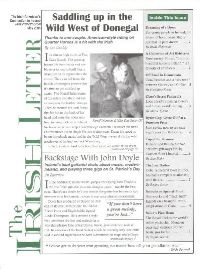 May 2005:
Riding American Quarter Horses in the West of Donegal * Backstage with John Doyle - Ireland's Lead Guitarist * Young Irish People Can't Afford Homes * Russborough House's Collection of Art Robberies * Coral Beaches and a Sky Ride in Connemara * Loop Head, Clare's Secret Peninsula * Ryder Cup, Fun and Very Very Expensive * Killaloe & Ballina Twin Towns * Cobh, The Last Harbor * Solitude on Spanish Point * Royal Cork, The World's First Yacht Club
---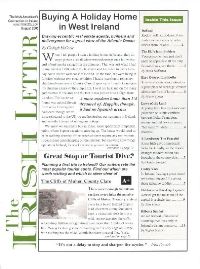 August 2005:
Buying a Holiday Home in West Ireland * Reviewing the Great Stops and Tourist Dives of Ireland: Cliffs of Moher, Giant's Causeway, Guinness Brewery, Bunratty Castle, Newgrange & Ring of Kerry * Irish Youth are a Problem for the EU * Easy Over on Inishbofin * Old Laws in a New Land * A Changed Rural Environment * Wacky Irish Golf Caddies * Doing Dublin in Just One Day * Bilberry Sunday - a Holiday That Lives in Ireland's Memory